International Association of Universities
The Global Voice of Higher Education
The IAU offers a series of publications of interest to the higher education community.
It also speaks out:

it develops and adopts Policy papers and

contributes to international debates on higher education by publishing papers on a variety of issues in journals, magazines and by contributing book chapters to key publications around the world. Please click here to view a sample.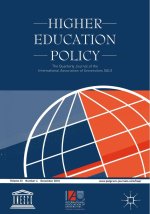 Higher Education Policy journal
Higher Education Policy (HEP) , published quarterly, is an international peer-reviewed journal for advancing scholarly understanding of the policy process applied to higher education through the publication of original analyses, both theoretical and practice-based, the focus of which may range from case studies of developments in individual institutions to policy making at systems and at national level. The editorial board encompasses international experts in higher education.
All IAU Members in good standing with their membership fees receive a copy of HEP as part of their membership benefits. If you are not an IAU Member and wish to subscribe to HEP, you can do this on the journal's website and by clicking Buy Personal Online Subscription.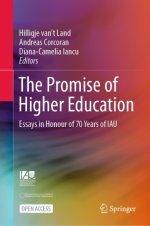 The Promise of Higher Education: Essays in Honour of 70 Years of IAU
The International Association of Universities is immensely pleased to launch the book "The Promise of Higher Education: Essays in Honour of 70 Years of IAU" as part of our ongoing anniversary celebrations. We thank all the colleagues and friends for their insightful contributions. This impressive collection of 65 essays by 82 authors from all around the world represents a fine analysis of and reflection on the past, current and future of higher education and is a wonderful testament to the work of the IAU over the years and into the future. Available online through open access, this book will take you on a tour across the global higher education landscape while addressing pertinent themes and challenges in higher education.
➨ For more information on the book launch events please click here
Watch the congratulatory videos shared by IAU Members, partners, and friends to commemorate 70 Years of International Cooperation.
Read the special edition of IAU Horizons dedicated to each of the remarkable seven decades that paved the way to what IAU has become today.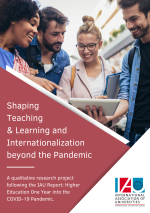 Shaping Teaching & Learning and Internationalization beyond the Pandemic
The first and second IAU Global Surveys on the Covid-19 Pandemic identified significant interruptions to both Teaching & Learning(T&L) and internationalization activities. The innovative responses from Higher Education Institutions (HEIs) around the world noted in the Global Survey reports generated interest in investigating the particular reasons behind these changes. This qualitative research project focusing on specific aspects of transformations in T&L and internationalization was developed as a result. It was carried out in the aftermath of a particularly turbulent period, but at the same time a period that saw a high level of innovation and resilience as institutions sought to continue their mission despite the challenging context. The results of this qualitative research project allow us to understand how and to what extent the experiences of HEIs during the pandemic have generated changes and transformations that go beyond the pandemic, as the project was conducted at a time where HEIs were no longer forced to rely on digital technologies to continue operating.