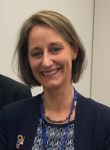 Hilligje van't Land
IAU Secretary General, International Association of Universities
Executive Director, International Universities Bureau
Biography



---
WORD FROM THE SECRETARY GENERAL
---
"I dedicated my career to the advancement of higher education.
Today, I am proud to take up the responsibilities that come with the position of Secretary General of the prestigious International Association of Universities (IAU).
In close collaboration with the IAU President, the Members of the Administrative Board, and the Members of the secretariat, I will continue the excellent work undertaken by my predecessor Eva Egron-Polak and will work to ensure an efficient and impactful implementation of the IAU vision and mission. The IAU Strategic Plan 2016-2020 adopted in Bangkok in November 2016 leads the way for the years to come but plans are also being elaborated for way beyond.
IAU has worked to enhance international cooperation among universities since its inception. It has accompanied them in understanding and benefiting from a globalized world.
The four key strategic priorities as selected by the Board provide a solid frame for action. IAU has developed unique advisory services on internationalization to assist higher education leaders define or refine their own internationalization strategies; the Association developed a strong leadership programme and provides several cooperation platforms. It fosters exchange on sustainable development teaching, research and campus initiatives, and is in the development phase of a new strategy to understand the contribution of ICTs both in teaching and research but also throughout the institution.
The IAU knowledge hub - with its flagship publication, the World Higher Education Database (WHED), its peer reviewed research journal Higher Education Policy, its internationally renowned magazine IAU Horizons, the renewed ebulletin IAU Lynx, - is constantly updated and improved to better serve the global higher education community to the full.
As IAU Secretary General, I am committed to ensure this Association brings the necessary support to its Member universities and organizations as well as the overall higher education community. I will promote the ethics and values that must underpin higher education and develop activities to support our community in responding to current challenges."