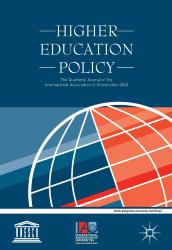 HEP 33/2 – June 2020
June's issue of Higher Education Policy (HEP) has just been released and is a special edition entitled "Higher Education for Forcibly Displaced Migrants, Refugees and Asylum Seekers", edited by Khalid Arar, a member of the HEP Editorial Board. Articles deal with resettled refugees in the USA under the Trump presidency, partnership between community-based organizations, social inclusion policies for refugees in Australia, policy and practices of higher education for forcibly displaced people in Turkey, the impact of higher education policy for displaced people in Greece, and pulling factors for students coming to South Africa. To see these abstracts, and more, please visit the journal's webpage below.
IAU Members have access to the entire archive of HEP, including those published online, via the HEDBIB database.
If you are interested in submitting a paper to HEP, you should use the online submisstion system. Please visit the journal's home page here.