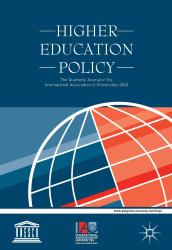 HEP 35/4 – December2022
The December issue of HEP is now out. Papers discuss quality assurance in Nordic higher education and its relevance and for the welfare state, the influence of professional higher education associations on discourse of internationalization in the US, university reforms in Turkey during the single party era, and more.
IAU Members have access to the entire archive of HEP, including those published online, via the HEDBIB database.
>> To see the full content list and to read Abstracts
If you are interested in submitting a paper to HEP, you should use the online submisstion system. Please visit the journal's home page here.