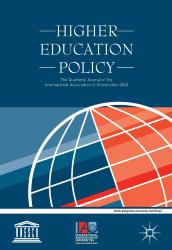 HEP 31/3 – September 2018
The latest edition of Higher Education Policy (HEP), IAU's quarterly peer-reviewed journal has just been released. Articles include cost sharing via deferred graduate retirement, graduate employability in Cameroon, international faculty contribution to local research capacity-building, and how transferring from a community college to a 4-year institution in the US impacts on cost to the student and time to graduation. IAU Members have access to the entire archive of HEP, including those published online, via the HEDBIB database.
If you are interested in submitting a paper to HEP, you should use the online submisstion system. Please visit the journal's home page here.