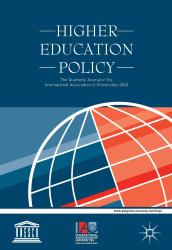 HEP 36/3 – September 2023
September's issue of Higher Education Policy looks at effectiveness of incentives for degrees in high-need content area (i.e., STEM, language-related areas, and special education) in the US, how student recruitment staff within HEIs responded to the COVID-19 pandemic, whether the Bologna Process enhancing employability among Spanish university graduates, China's 'soft power' in South East Asia, and the expansion and diversification of higher education in Brazil.
>> To see the full content list and to read Abstracts
If you are interested in submitting a paper to HEP, you should use the online submisstion system. Please visit the journal's home page here.