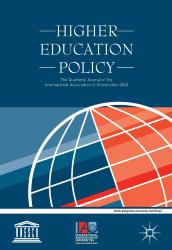 HEP 32/3 – Septembre 2019
The latest edition of Higher Education Policy (HEP), IAU's quarterly peer-reviewed journal has just been released, and presents papers looking at, amongst others, China's soft power in South East Asia via international branch campuses*, emerging private higher education in Vietnam, academic freedom and world-class universities, the potential of Pakistani universities for combatting terrorism, institutional initiatives for creating interdisciplinary research in Latin America, and the realities of free higher education. The full list of contents can be viewed online on the link below.
* article can currently by consulted for free.
IAU Members have access to the entire archive of HEP, including those published online, via the HEDBIB database.
If you are interested in submitting a paper to HEP, you should use the online submisstion system. Please visit the journal's home page here.