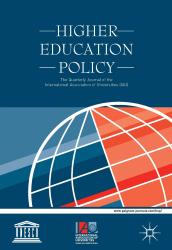 HEP 34/3 – September 2021
September's issue of Higher Education Policy (HEP) brings together a number of articles looking at, amongst others, university mergers in Finland, transformation of public institutions in Italy from the perspective of rectors and department chairs, quality assurance in Iran, and employment and wage gaps among Canadian male and female graduates.
IAU Members have access to the entire archive of HEP, including those published online, via the HEDBIB database.
>> To see the full content list and to read Abstracts
If you are interested in submitting a paper to HEP, you should use the online submisstion system. Please visit the journal's home page here.