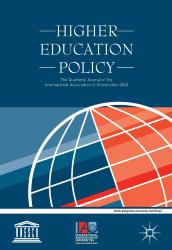 HEP 32/1 – March 2019
The latest edition of Higher Education Policy (HEP), IAU's quarterly peer-reviewed journal has just been released, and is a special edition entitled Taking Account of 20 years of Quality Assurance in German Higher Education. Papers look at accreditation, quality assurance, and resistance to quality management. Other papers look at barriers to university–industry partnerships, the appointment of industry practitioners as professors in Sweden and percevied benefits, and what is higher education, post-massification?
IAU Members have access to the entire archive of HEP, including those published online, via the HEDBIB database.
If you are interested in submitting a paper to HEP, you should use the online submisstion system. Please visit the journal's home page here.