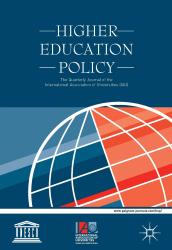 HEP 34/2 – June 2021
The latest issue of Higher Education Policy (HEP) brings together a number of articles looking at, amongst others, global and peripheral identities in knowledge production in Latin America, US public Master's degree-awarding institutions, mainland Chinese students in Taiwan, HE projects in Nepal, academic action and triple-helix dynamics in South Korea, and refugee access to post-secondary education in the US. To see these abstracts, and more, please visit the journal's webpage below.
IAU Members have access to the entire archive of HEP, including those published online, via the HEDBIB database.
If you are interested in submitting a paper to HEP, you should use the online submisstion system. Please visit the journal's home page here.