Future well-being of humanity and the planet depends on successful resolution of the interconnected challenges of economic, social, cultural, and environmental sustainability. Since 1993, IAU advocates for the key role higher education plays in achieving sustainable development. IAU's actions in support of the 2030 Agenda for Sustainable Development provide a framework for universities to develop inter-institutional collaboration in pursuit of sustainable development. The aim is to assist higher education leaders wishing to embed sustainable development concepts and principles in strategic planning, academic and organizational work.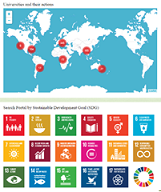 IAU developed a dedicated portal on Higher Education and Research for Sustainable Development:


www.iau-hesd.net

This global portal presents IAU's strategy to support sustainable development in higher education, reports on all IAU activities in the the field, provides useful resources about sustainable development in higher education and maps more than 800 inspiring initiatives implemented by higher education institutions and organizations to reach the SDGs.