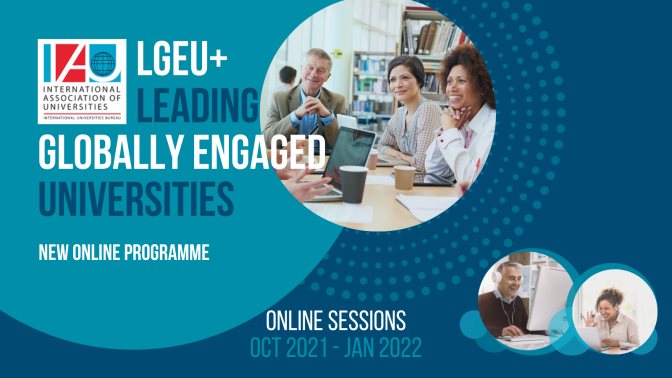 LEADING GLOBALLY ENGAGED UNIVERSITIES (LGEU) is a unique leadership development programme intended for HEI leaders, ranging from heads of institutions, to vice-presidents and deans, but also academic departmental heads, registrars, COOs, as well as senior professional administrators.
Keeping in mind the current context, we are pleased to announce the launch of LGEU+, the revamped online programme focusing on linking leadership transversally to the three strategic priorities of the IAU and balancing an emphasis on strategic thinking and planning as well as team-based approaches. The programme encompasses short, focused sessions aimed at enabling participants to:
• Enhance their approach to strategic planning,
• Discover new leadership ideas and insights,
• Extend their international network through peer engagement.
Facilitated by a workshop consultant and IAU's in-house specialists, LGEU+ builds a mutually supportive coalition of peers and promotes effective university and civil leadership skills as well as strategic communication. Sessions are limited to 20 participants to ensure effective dialogue and group dynamics.
The objective of LGEU+ is to empower university leaders to understand emerging trends in higher education and address leadership challenges on the frontline of digital, financial, environmental and societal disruption.

---
PROGRAMME
---
The programme includes an array of activities focused on improved analysis, foresight, innovation and implementation. It will combine:
• Four theme-specific interactive workshops led by the HE leadership consultant Dr. Tom Kennie (Ranmore Consulting)
• Three facilitated peer-learning sessions (Action Learning Groups) split into groups of four participants to ensure maximum interaction led by IAU President and senior staff
All sessions involve some pre and post-session work. In the Action Learning Groups, participants will engage with their peers and develop a specific project of importance to their institution (e.g. strategy paper with a particular focus), facilitated by IAU Senior Staff and Tom Kennie, thus getting tangible value from the workshop.
---
PROGRAMME OUTCOMES
---
SENSE-MAKING AND LEADING IN TIMES OF UNCERTAINTY

Get a greater appreciation of the approaches to leading through COVID and how a range of universities are taking novel approaches towards building a new future.


ENHANCED STRATEGIC THINKING & PLANNING

Create space to reflect on different aspects of global higher education on the horizon with a particular focus on scenario thinking and the implications for your current strategy and future plans.


UNDERSTANDING YOUR LEADERSHIP CAPABILITIES

Gain better knowledge of the different dimensions of strategic leadership to become a globally engaged leader of change.


FOSTERING HIGH-PERFORMING TEAMS

Explore leadership expectations and improve interpersonal management skills to unlock the full potential of diverse high-performing teams.


BUILDING A GLOBAL NETWORK OF PEERS

Create long-term partnerships, connect and share experiences with colleagues from all over the world and learn how they respond differently to common challenges.