Leadership is a core aspect of quality higher education, vital in enabling institutions to respond to complex challenges and social transformation. Higher education leadership must be underpinned by values and responsibility; it must also constantly evolve in order to address emerging challenges and opportunities. It is essential that higher education institutions fully contribute to the development of sustainable and democratic societies by ensuring fair, equitable, and inclusive access to education. IAU endeavours to strengthen capacities of university leaders and enhance cooperation among HEIs across the world, whilst also invigorating university leadership to maximise their impact on communities at all levels.
Overall objectives for 2016-2022:
Provide thought leadership
Foster professional development
Monitor trends in leadership challenges
Facilitate peer-to-peer learning

---
KEY FIGURES
---
---
ALUMNI TESTIMONIALS
---
---
COMPLETE LIST
---

JUNE 2019 / LGEU-7: ISIT (Paris, France)


OCTOBER 2018 / LGEU-6: National University of Political Studies and Public Administration(Bucharest, Romania)


MAY 2018 / LGEU-5: McMaster University (Hamilton, Canada)


MAY 2017 / LGEU-4 University of Botswana, (Gaborone, Botswana)


DECEMBER 2016 / LGEU-3: Universidad EAFIT, (Medellin, Colombia)


APRIL 2016 / LGEU-2: University College Dublin (Dublin, Ireland)


NOVEMBER 2015 / LGEU-1: University Malaya (Kuala Lumpur, Malaysia)


---
MAPPING LEADERSHIP TRAINING PROGRAMMES & IDENTIFYING GAPS
---

IAU was commissioned by the World Bank to undertake a mapping of professional development training programme available around the world for higher education leaders at different levels of the institution. IAU has created an online directory. Based on the mapping findings, IAU has conducted a gap analysis.

>>> Mapping of higher education leadership programs worldwide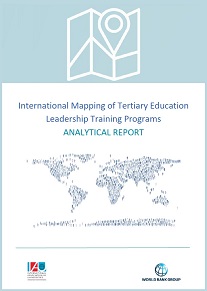 Depending on the national or regional context, the number of higher education institutions is growing, the nature of the institutions is diversifying, their role in society is continuously questioned and the demands placed on these institutions is expanding. It is thus not surprising that the leadership of such institutions becomes more complex and that the development of leadership capacity becomes a priority. In response to these complex realities, there is a growing number of training programs offered to strengthen higher education leadership. Yet, there is no single source of information about what is on offer, nor have there been many studies to look at the impact of such trainings. IAU, itself offering a leadership program since 2015, produced an initial mapping of programs. The aim is to identify and briefly describe programs on offer and discover gaps in terms of geographic coverage, type of program offered, who is being targeted, etc. IAU has issued an analytical report presenting the rationale, methodology and results of the study.

>>> Online searchable directory of programs
The list of all 78 identified programs is available in a directory in a format of a searchable excel file, which allows sorting the programs according to 6 topics as follows:


Target audience


Duration


Delivery mode


Location


Tuition fee


Credential