President 1985-1990, Former Rector, Université de Genève, Switzerland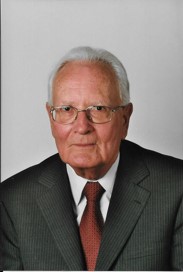 Justin Thorens was the president of the University of Geneva between 1977 and 1983. Before that, he had hold various positions within the university, among others was he the dean of the Faculty of Law.
He worked for a long time with and for the International Association of Universities. In 1984 he became a board member and only one year later was elected as president of the Association for the next five years. In 1990, he became honorary president. He contributed in particular to the foundational work on University and Academic Freedom.
Following his appointment at IAU, he became president for the United Nations University in Tokyo and was the president of the European Centre for Higher Education (CEPES) of UNESCO.
He studied and taught in many countries. During his own studies, he did an exchange semester in Berlin and London. Afterwards he thought and conducted research at the University of Stanford, and Munich.
He recieved the first IAU President's Award on 4 May 2018.