---
NEWS FEED
---
IAU regularly publishes news about its activities as well as opportunities offered by its partners.
IAU also publishes news from its Members worldwide.
---
IAU NEWSLETTER
---
IAU Newsletter provides you with information on the work of the International Association of Universities.
Keep yourself informed, subscribe


IAU Newsletter 2018 issues:



June 2018


May 2018


April 2018


March 2018
---
IAU HORIZONS - MAGAZINE ON HIGHER EDUCATION
---
Each issue of the magazine features the following sections: IAU Activities, upcoming events and specific projects the IAU has undertaken; IAU Collaboration and Networking; Membership News; New Publications; and a global Calendar of Events. IAU Horizons is published twice a year. Each issue is also devoted to a special 'In Focus' topic of interest and debate for the higher education community worldwide. IAU Horizons is available in English, in paper format and electronically.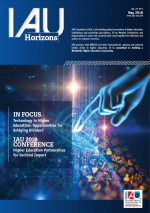 The May 2018 issue of the newly redesigned Magazine IAU Horizons presents a selection of IAU activities.
The 'In Focus' section is themed 'Technology for Higher Education: Opportunities or Bridging Divides?'. Contributors from around the world examine where universities are heading using technology in teaching, learning and research.
>> Read the magazine
>> Order printed copy
>> Request more information
>> Former issues




>> Former issues