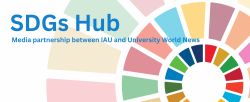 24 September 2023
The IAU and University World News have partnered to support the work of universities by providing them with adequate and constructive visibility though the UWN's SDGs Hub.
In view of the critical importance of the UN Sustainable Development Goals (SDGs), University World News dedicates a news section of their website to highlighting the work that universities, and the higher education sector as a whole, do to contribute to the achievement of the Goals. In light of the IAU's leadership on Higher Education and Research for Sustainable Development (HESD), IAU and UWN have partnered to further bring visibility to good practices, new research, and important initiatives in the sector. IAU is thus an official SDGs Hub partner.
IAU Members interested in publicizing their sustainable development achievements on the UWN SDGs Hub are invited to contact the IAU.
To learn more about IAU's work on HESD, click here, or discover the IAU HESD Portal here.
Learn more about the IAU - UWN Partnership here.
If you wish to become engaged with the IAU's work on HESD, write to Isabel Toman, IAU Programme Officer for Higher Education and Research for Sustainable Development.