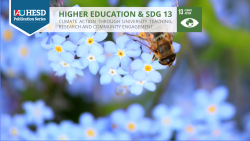 22 July 2019
Universities around the world are mobilizing for climate action !
Higher education institutions' leadership, academic and administrative staff and students are stepping up their action.
The International Association of Universities (IAU) has gathered 15 concrete examples of meaningful initatives towards climate action, undertaken by higher education institutions and organizations from all over the world, from Cyprus to Malaysia, from Peru to India, Lithuania, Costa Rica, Uganda, Ireland, Japan, USA, Jamaica and Australia.
The publication " Higher Education and SDG 13 : Climate Action Through University Teaching, Research and Community Engagement " is the first of a series of IAU publications dedicated to Member institutions' contribution to the United Nations 2030 Agenda for Sustainable Development and its 17 Sustainable Development Goals.
With this series of publications, IAU hopes to inspire other universities to join the effort and take action to transform the world for the better through higher education.

>> Download the HESD Publication in pdf


CALL FOR SUBMISSIONS FOR THE NEXT ISSUE ON SDG 5!

Your institution is undertaking exciting initiatives towards SDG 5 - Gender Equality ? Send information on your innovative projects to be part of the next publication of the series and gain visibility worldwide for your good work !
Contact: contact[@]iau-hesd.net
>> More information about IAU's work on Higher Education and Research for Sustainable Development.