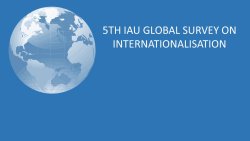 7 March 2018
The International Association of Universities (IAU) is conducting its 5th Global Survey on Internationalization of Higher Education. Each IAU Global Survey provides a unique analysis of global trends on internationalization of higher education. It is the longest running internationalization survey of its type, with the first survey being undertaken in 2003. The IAU Global Surveys have become an invaluable resource for those interested in internationalization of higher education.
You can take the survey in English or French or Spanish.
The deadline to fill in the survey is 30 June.

Sponsoring partners of the 5th edition of the Global Survey on Internationalization of Higher Education: