21 November 2017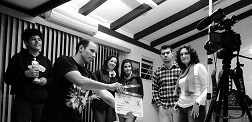 The International Telematic University UNINETTUNO continues its mission on professional and academic training of the new Mediterranean generations, with the project "FIEST– Formation Internationale à l'écriture de séries TV".
"FIEST" aims to train young students from Beirut, Tunis and Marrakech to write TV series.
It is funded by funded by the European Commission and in partnership with COPEAM, RAI, FRANCE 2 and the Schools of Cinema of ALBA (Lebanon), ESAC (Tunisia) and ESAV (Morocco).
UNINETTUNO organizes all the distance learning activities, including webinars and interactive sessions on the e-learning platform of the university, one of the few in the world also available in Arabic.
"FIEST", together with the project "À Première Vue" for young Mediterranean movie-directors, enriches UNINETTUNO's activities in collaboration with the institutions and schools of the Arab countries in the Mediterranean Area.